INSTALLATION, FAULT FINDING & REPAIR
We offer quality network installation services that have earned us a 5 star Google rating from our clients. Fast, tidy and cost effective, we offer the following data cabling services:
Voice & Data Cable Installation
CAT5e, CAT6 and CAT6a & CAT7 Cable Installation
Integrated Networks for 'shared' Voice and Data
Data Centre Cabling Installations
Local area network (LAN) wide area network (WAN)
Network Testing and Fault Finding for Copper Networks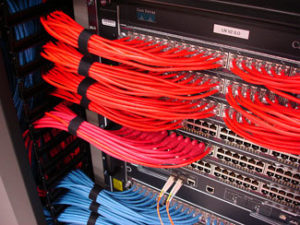 ---
DATA CABINET CLEAN UPS
We offer ethernet (cat 5, 6 and 7) installations to cover any sized business. This can either be done as a separate network, full ethernet network, or part of a fibre optic network with fibre links between each network switch, allowing for faster speeds, and network failover redundancy baked in.
All of our cabinet tidy jobs are performed out of hours to ensure you have no downtime. Whether it be a 1 day job, or a job that needs to be done over the course of a few weeks, we ensure that your current infrastructure stays live, separating the job down into multiple stages, making sure we have the same attention to detail every step of the way. A tidy up of a comms cabinet ensures a good fit and finish, and the use of different coloured cables for VOiP and network traffic ensures easier fault finding, and extra reliability though network traffic segregation.
BEFORE /AFTER