INSTALLATION, FAULT FINDING & REPAIR
We offer quality network installation services that have earned us a 5 star Google rating from our clients. Fast, tidy and cost effective, we offer the following data cabling services:
---
Voice & Data Cable Installation
CAT5e, CAT6 and CAT6a & CAT7 Cable Installation
Integrated Networks for 'shared' Voice and Data
Data Centre Cabling Installations
Fibre Optic Cable Installations and Emergency Fibre Repair
Local area network (LAN) wide area network (WAN)
Network Testing and Fault Finding for Copper and Fibre Optic Cable
---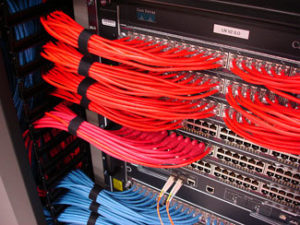 ---
DATA CABINET CLEAN UPS
We provide 'out of hours' data cabinet tidy up's. No disruption to business, fully dressed in patch cabling and colour coding for mixed VoIP & data networks. Improves speed and reliability of your networks and looks good too.
BEFORE /AFTER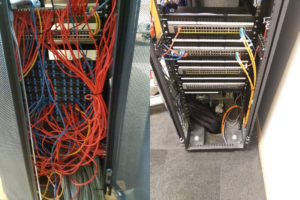 CALL US: 01709 911100